The 2018 Volkswagen Atlas vs the Competition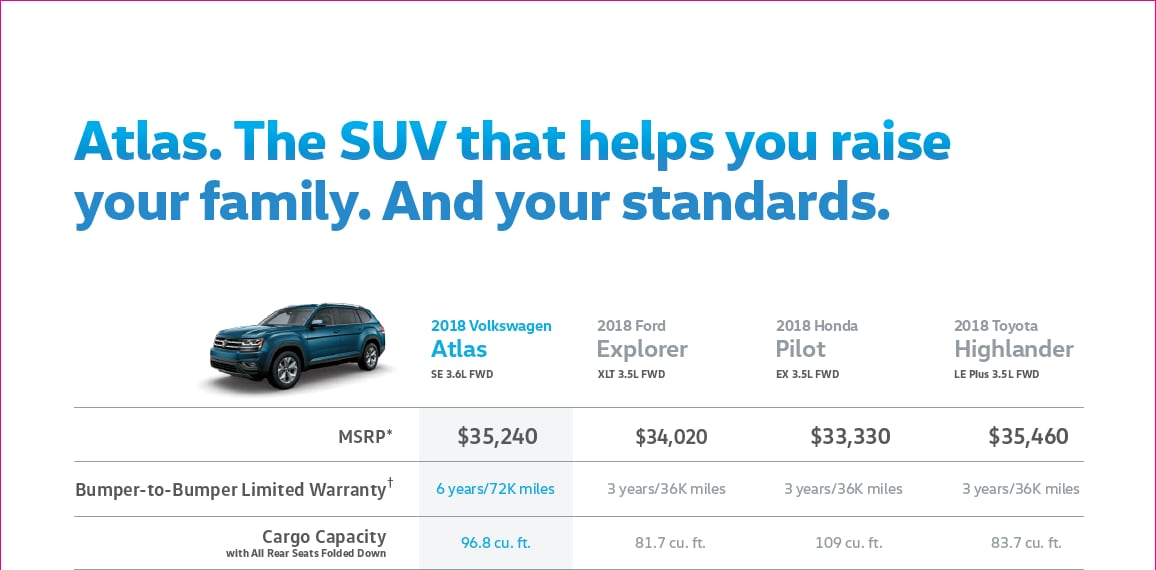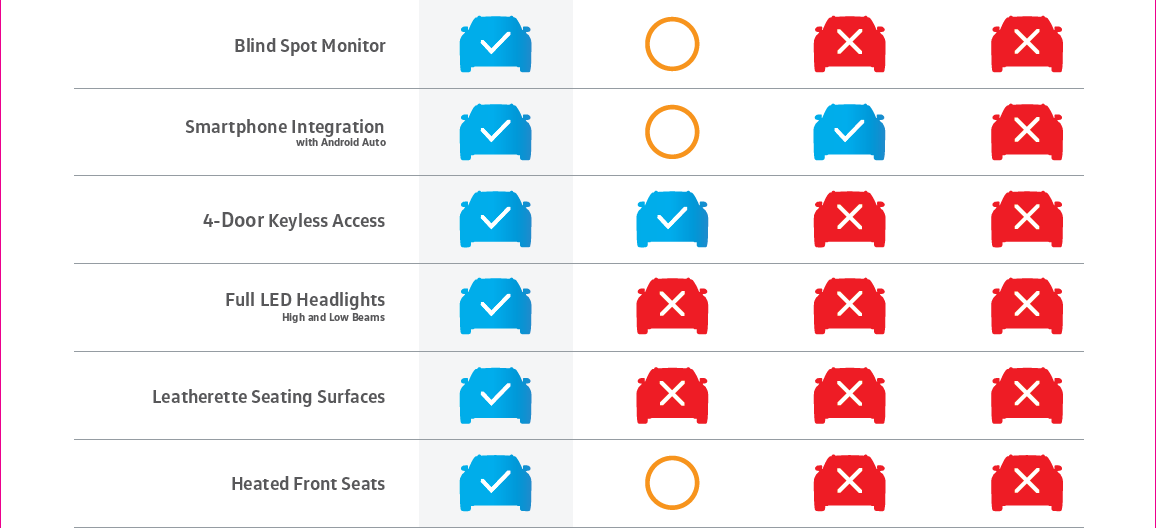 Dare to Compare the VW Atlas & See How Its Warranty Stacks Up to the Competition
If you're about to invest both time and money into a new family SUV, you probably want to make sure you're investing wisely, right? That's why we're so excited to be able to offer Tampa area families the 2018 Volkswagen Atlas SUV along with America's Best SUV Bumper-to-Bumper Transferable Warranty.
With such a good warranty, you might be wondering what the catch is, but there just isn't one-Volkswagen believes in building strong, quality vehicles and this bumper-to-bumper warranty on the 2019 Volkswagen Atlas is just one of the ways it backs that up. While other automakers field quality vehicles as well, you have to wonder why they don't back them like Volkswagen has.
Not only does the 2018 VW Atlas SE 3.6L AWD offer more cargo capacity and standard features (like Blind Spot Monitor, Full LED Headlights, Leatherette Seating, Heated Front Seats, and Roof Rails, to name a few) than the 2017 Ford Explorer XLT 3.5L AWD, the 2017 Honda Pilot 3.5L AWD, and the 2017 Toyota Highlander LE Plus 3.5L AWD, but it also offers a better Bumper-to-Bumper Limited Warranty than those models as well.
What Is the 2018 Volkswagen Atlas Bumper-to-Bumper Limited Warranty Coverage?
While the other models mentioned above all share a 3-Year/36,000-Mile Bumper-to-Bumper Limited Warranty, you can expect far more from the 2018 VW Atlas-well, double, to be specific. The 2018 Volkswagen Atlas enjoys a 6-Year/72,000-Mile Bumper-to-Bumper Limited Warranty, and trust us, you'll enjoy it, too!
Coverage like that can inspire confidence and let you feel good about investing in a new family SUV, especially since that warranty is transferable! A transferable warranty is good for you and any potential second owner, and with a transferable warranty, you can expect a higher resale value than if the warranty stopped with you.

Lease or Buy the New VW Atlas in St Petersburg at Bert Smith Volkswagen!
If you're interested in getting behind the wheel of the all-new Volkswagen Atlas with it's industry leading warranty, contact us online, give us a call, or get your ePrice on a new 2019 Atlas when you visit our online inventory! Visit us today for a test drive, you won't regret it!